Hidden away in the northern mountains of Kyoto are the rural towns of Kurama and Kibune. Two of the best hidden gems that Kyoto has to offer.
Table of contents:
Introduction to Kurama and Kibune
Visiting and what to do in Kurama
Hiking between Kurama and Kibune
Travel and access details
Tips for visiting
Introduction to Kurama and Kibune
Kurama and Kibune are often overlooked by visitors to Kyoto, yet together make for a very worthwhile (half-) day trip. That includes the opportunity to enjoy an onsen, hike through the forested mountains, experience Zen moments in nature, visit a range of temples, ride a small scenic train, enjoy atmospheric dining, and more!
Between both, there's a lot to experience and do. Therefore, we recommend taking half a day to a full day to visit both. A typical visit starts at either town, then a mountain hike and finish in the other. Our suggestion is to start in Kurama and travel to Kibune, this way visitors can finish their visit with a meal in a scenic area. However, doing it the other way around includes the possibility to relax and unwind in an Onsen at Kurama.
Visiting and what to do in Kurama
Riding the Eizan mountain Railway
Getting there is part of the fun, as part of the route is travelled on the Eizan railway. A small private railway that operates between Demachi-Yanagi station and runs all the way to Kurama. There are special sightseeing trains on the route and along the way is a variety of panoramic views.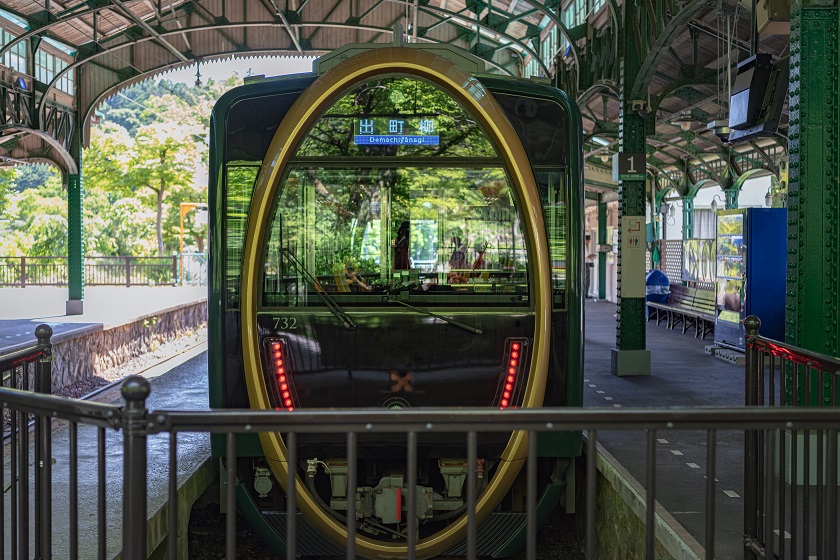 Kurama Onsen
Right outside Kurama station is a big red Tengu (a legendary creature found in Japanese folk religion) that welcomes visitors. You will also find the public bath of Kurama Onsen here. A Natural sulphur hot spring and open-air bath, this alone is worth making the trip. The bath is open during the day to anyone, with an entrance fee between 1000 – 2.500yen, depending on arrangement chosen. It is also possible to book a dining or overnight Ryokan arrangement.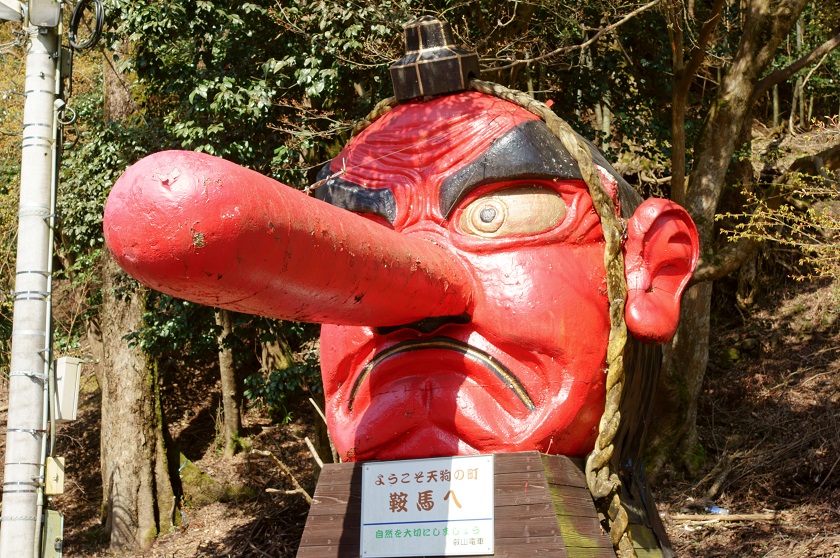 Going up Mt. Kurama
The way up can be done in two ways, one is the traditional way of hiking up. The more modern option is taking the Kurama-dera Cable car. Our recommendation is to take the slow route up by foot. The winding pathways up the mountain are filled with beautiful trees and greenery. On most days there are not many people about and the hike up takes about 30-40 minutes. That said, the funicular line up the mountain certainly beats walking timewise, taking only 2 minutes with a fare of 200yen. Definitely a good alternative for those wanting to make the most out of their limited time or for those who simply prefer to skip the walk up.
Kurama-Dera temple
On top of Mt. Kurama resides a temple by the same name. First build in 770, the temple played an important role throughout time, both politically and spiritually. The temple is a popular visit for Japanese visitors due to its link with the occult and stories pertaining to mysteries around it, yet remain under the radar for visitors from abroad. The temple complex itself is worth exploring, with sweeping views of the surrounding mountain valley.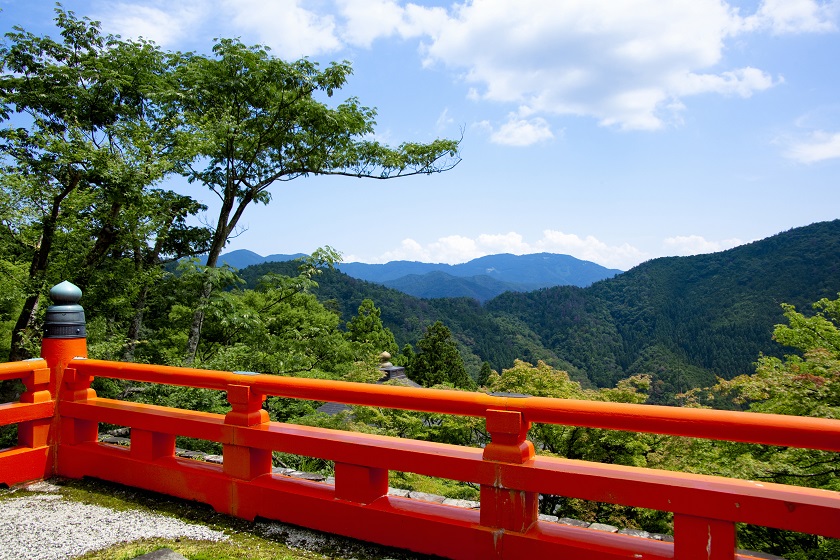 Hiking between Kurama and Kibune
Just behind Kurama-dera starts the hiking trail to Kibune. The path winds through the woods, and along the way is a variety of temples and shrines, and other wonderful sights such the forest floor matted by tree root and panoramic lookout points. Due to the surroundings, scenery and remote location, walking the path can be a Zen-like experience.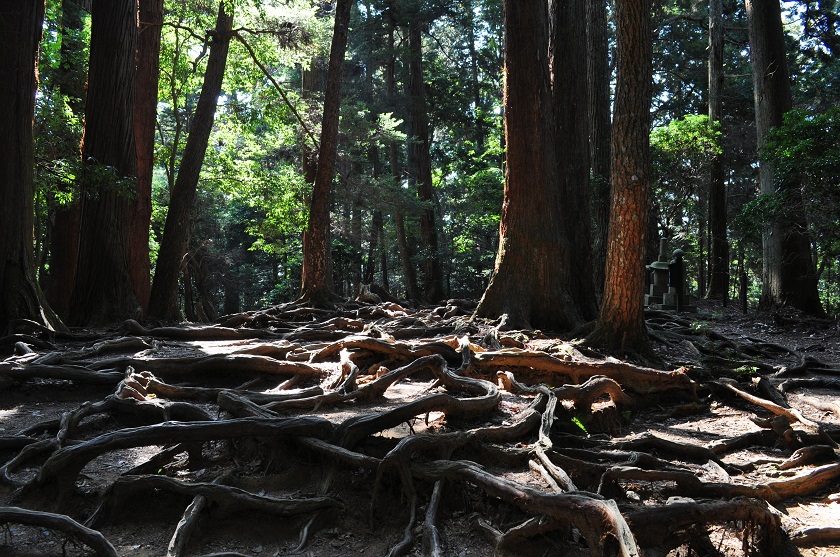 Typically, the hike between Kurama and Kibune should take about 90 minutes, that includes time to explore and enjoy the scenery. The hike itself is fairly mild, with some stairs along the way. Walking canes can be borrowed at the start and end of the trail.
Visiting and what to do in Kibune
Kifune shrine
This small town grew historically around the Kifune shrine. The tale goes that a goddess travelled from Osaka in a small yellow boat up the river into the mountains. The shrine was built where she finished her journey. The meaning of Kibune literally means yellow boat in Japanese. A visit to the Shrine is a recommended stop.
Enjoy a fantastic meal
Named Kawadoko, the local restaurants have the tradition to build wood covered platforms over the small Kibune river where guests can dine, while the water flows below. The most popular arrangement is a set Kaiseki meal (traditional multi-course Japanese dinner). Though it is also possible to enjoy local soba noodles or just have a drink.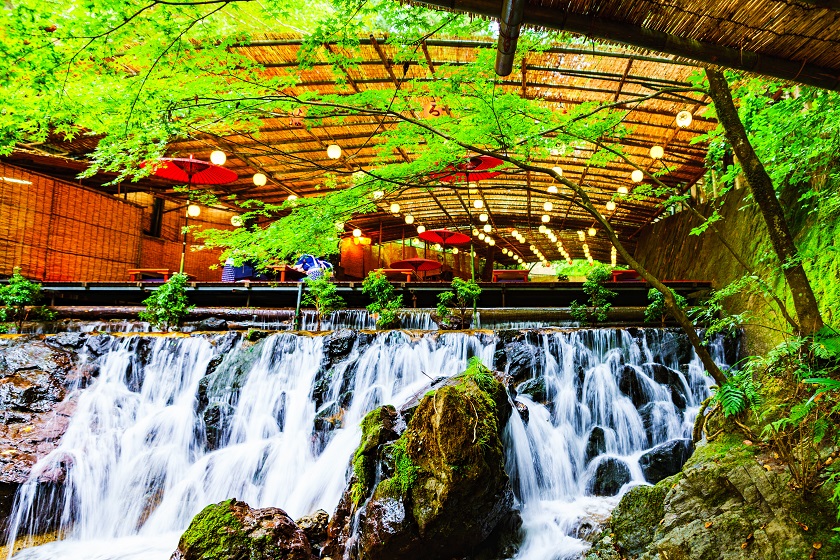 Stay the night
Along Kibune river are different Ryokans, where travellers can stay the night and experience a real Japanese Inn. Kibune is a town that is popular with locals and Japanese but not well known with foreign tourists. This means service can be considered more authentic than elsewhere and is one of the better places to experience a Japanese Ryokan stay.
Travel and access details
How to travel to Kurama from Kyoto station
The best way to travel to Kurama using public transport is take bus line 17 from Kyoto station to Demachi-yanagi and from there use the Eizan Railway to Kurama station.
How to travel to Kibune from Kyoto station.
The best way to travel to Kurama using public transport is take bus line 17 from Kyoto station to Demachi-yanagi and from there use the Eizan Railway to Kibune-Guchi station, from there local buses run into town.
A good alternative is to take the Kyoto subway to Kokusai Kaikan, and from there use a taxi. This simplifies the route significantly and won't be a big difference in fare when shared with multiple passengers.
Unfortunately there are no travel options covered by the JR Pass between Kyoto station and Kurama or Kibune.
Tips for visiting
For the absolute best experience it is recommended to come either early at day break or later in the afternoon. At these times there is almost no one around
Even better, stay the night! At either Kibune or Kurama Onsen. For more information on what to expect, read The best Ryokan stays in Japan
Don't forget the pack the right hiking shoes, or forget your camera!