Where to exchange the Japan Rail Pass?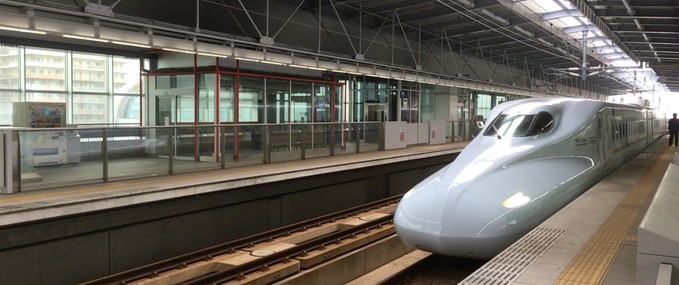 Find out where you can exchange and activate the Japan Rail Pass.
---
Every Japan Rail Pass has to activated in Japan. You can do so by exchanging your Japan Rail Pass voucher for the Japan Rail Pass itself at any of the below stations.
To exchange your Japan Rail Pass, bring your passport and eligibility documents. The JR Staff members will do the rest.
The JR Pass exchange process takes about 5 minutes itself. This can be longer in the event of a queue. Especially at Narita Airport and Tokyo Station, we recommend exchanging your pass at any other station if possible.
Station




Office



Service Hours

Mon- Fri




Sat, Sun & Hols
Kushiro
Travel Service Center
10:00-18:00
Obihiro
Travel Service Center
9:00-17:00
Asahikawa
Travel Service Center
9:30-17:30
Sapporo
JR Information Desk
8:30-19:00
Travel Service Center (East)
10:00-19:30
10:00-18:00
Travel Service Center (South)
10:00-20:00
New-Chitose Airport
JR Information Desk
8:30-19:00
Hakodate
Travel Service Center
10:00-18:00
Shin-Hakodate Hokuto
Ticket Office
9:00-20:00
Aomori
Travel Service Center
10:00-17:30
Hachinohe
Travel Service Center
10:00-17:30
Morioka
Travel Service Center
10:00-19:00
10:00-17:00
Akita
Travel Service Center
10:30-18:00
10:30-17:00
Sendai
Travel Service Center

10:00-19:00 (Mon-Sat)
10:00-18:00 (Sun & Hols)

Yamagata
Travel Service Center
10:00-18:00 (Mon-Fri)
10:00-17:00 (Sat)
Closed on Sundays and national holidays
Fukushima
Travel Service Center
10:00-18:00 (Mon-Sat)
Closed on Sundays and national holidays
Niigata
Travel Service Center
10:00-19:00
10:00-17:00
Nagano
Travel Service Center
10:00-19:00
10:00-17:30
Mito
Travel Service Center
10:00-19:00
10:00-17:00
Narita Airport
Terminal 1
JR

EAST

Travel Service Center
8:15-19:00
Ticket Office
6:30-8:15, 19:00-21:45
Narita Airport
Terminal 2・3
JR

EAST

Travel Service Center
8:15-20:00
Ticket Office
6:30-8:15, 20:00-21:45
Tokyo
JR

EAST

Travel Service Center (Marunouchi North)
7:30-20:30
JR-

CENTRAL

Ticket
Office (Yaesu North)
7:30-20:30
JR Tokai Tours
Tokyo Office

10:00-18:00

Ueno
Information Center (Central Ticket Gate)
9:00-19:00
Shinjuku
JR

EAST

Travel Service Center (New South Gate)
8:00-19:00
Information Center (EastGate)
9:00-19:00
Shibuya
Information Center (South)
10:00-18:30
Ikebukuro
JR

EAST

Travel Service Center (East)
9:00-18:00
Shinagawa
Information Center (Central
Ticket Gate)
9:00-19:00
JR-

CENTRAL

Ticket Office
9:00-19:00
JR Tokai Tours
Shinagawa Office

11:00-19:00




11:00-18:00
Haneda Airport
International Terminal
JR

EAST

Travel Service Center
(Tokyo Monorail 2F Ticket Gate/Arrival lobby)
7:45-18:30
Yokohama
Travel Service Center
10:00-20:00
10:00-19:00
Shin-Yokohama
JR-

CENTRAL

Ticket Office
8:00-20:30
JR Tokai Tours
Shin-Yokohama Office

11:00-19:00




10:00-18:00
Odawara
JR-

CENTRAL

Ticket Office
5:45-22:30
Mishima
Ticket Office (South)
5:45-22:30
Shizuoka
Ticket Office
5:00-23:05
Hamamatsu
Ticket Office
5:50-23:20
Nagoya

JAPAN

RAIL

PASS

Exchange Office
10:00-19:00
Ticket Office
6:00-10:00, 19:00-23:00

JR Tokai Tours Nagoya Office




9:00-19:30
JR Tokai Tours
Nagoya Station Hirokoji Entrance Office

11:00-19:00




11:00-18:00
Toyama
Ticket Office (Central)
5:40-23:30
Kanazawa
Ticket Office (Central)
4:40-23:30
Kyoto
Ticket Office (JR-

WEST

Central)
5:30-23:00
Ticket Office (JR-

CENTRAL

Hachijo Shinkansen)
8:30-23:00

JR Tokai Tours Kyoto Office




8:30-19:00
JR Tokai Tours
Kyoto Station Shinkansen Central Entrance Office

11:30-19:00




11:30-18:00
Higashi-Maizuru
Ticket Office
5:30-21:00
Nishi-Maizuru
Ticket Office
5:40-21:00
Shin-Osaka
Ticket Office (JR-

WEST

East)
5:30-23:30
Ticket Office (JR-

CENTRAL

Central)
5:30-23:00
JR-

WEST

Travel Corner
9:00-20:00
JR Tokai Tours
Shin-Osaka Office

8:00-20:30




9:00-18:00
Osaka
Ticket Office (Central NO.12,13)
5:30-23:00
Kansai Airport
Ticket Office
5:30-23:00
Nara
Ticket Office
9:00-20:00
Sannomiya
Ticket Office (Central)
5:30-23:00
Okayama
Ticket Office
5:00-23:30
Tottori
Ticket Office
5:45-23:00
Yonago
Ticket Office
5:00-22:00
Sakaiminato
Ticket Office
7:10-18:30
Matsue
Ticket Office
4:50-21:30
Hiroshima
Ticket Office
5:20-23:00
Shimonoseki
Ticket Office
5:30-22:30
Takamatsu
Travel Service Center
10:00-18:00
10:00-17:00
Matsuyama
Travel Service Center
10:00-18:00
10:00-17:00
Tokushima
Travel Service Center
10:00-18:00
Kokura
Travel Service Center
11:00-19:00
10:30-18:00
Hakata
Travel Service Center

10:00-20:00 (Mon-Sat)
10:00-18:00 (Sun & Hols)

JR-

KYUSHU

Ticket Office
7:00-23:00
Saga
Travel Service Center

10:30-19:00




10:30-18:00 (Sat)
Ticket Office

10:30-18:00 (Sun & Hols)

Nagasaki
Travel Service Center
10:30-19:00
10:30-18:00
Kumamoto
Travel Service Center
10:30-19:00
10:30-17:30
Oita
Travel Service Center
10:30-19:00
10:30-18:00
Miyazaki
Travel Service Center

10:30-18:00 (Mon-Sat)

Ticket Office

10:30-18:00 (Sun & Hols)

Kagoshima-Chūō
Travel Service Center
11:00-19:00
10:30-18:00
Any questions? Let us know in the Forums