Universal Studios Japan (USJ), is the largest amusement park in Osaka. Learn about ticket prices, day passes, attractions, money saving tips and park access.

Table of contents:
About Universal Studios Japan
Ticket prices and day passes for Universal Studios
Attractions in Universal Studios
How to access Universal Studios in Osaka
Tips to get the most out of your visit

About Universal Studios Japan

The USJ park has 8 themed sections, Hollywood, New York, San Francisco, Jurassic Park, Waterworld, Amity Village, Minion Park, Universal Wonderland and the newest Harry Potter themed the wizard world. In addition, a Super Mario land themed part of USJ is set to open in 2021. Many of the individual attractions are styled after popular films like Spider-Man, Back to the Future, Terminator, Jaws and Jurassic Park.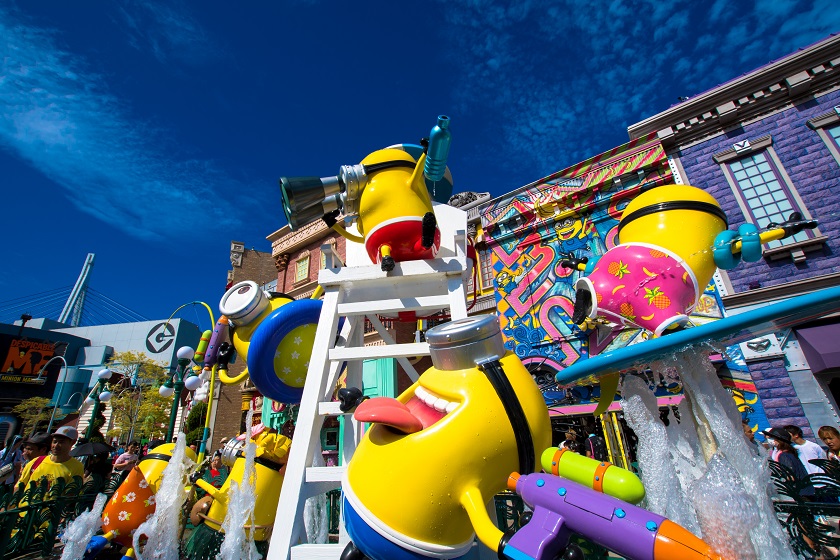 While exploring the park, visitors will often encounter famous mascots like Hello Kitty, Snoopy, Shrek and many Minions™, providing for great photo opportunities.


Ticket prices and day passes for Universal Studios
Various day passes are available for purchase, taxes are included in the price.
Adult 1 day/2day pass: Y7,800/Y14,400
Child 1 day/2 day pass: Y5,400/Y8,334
Senior 1 day pass: Y7,100
Handicapped adult 1 day: Y3,658
Handicapped child 1 day: Y2,500
Note that ticket prices may change depending on day of usage. Universal Studio tickets can be purchased in advance online through various platforms or in person at the park entrance. Prior purchase is recommended, as it will get you faster into the park.
In addition to the day passes, fast pass options are available in the park. Allow for quick access to a selected number of rides, without having to queue up.


Attractions in Universal Studios

The park has a wide range of attractions, rides, shows and more. Our top 5 is:
How to access Universal Studios in Osaka

Universal Studios has its own JR translation called Universal city station, and is only a 20-minute train ride from Osaka station and fully covered by the JR Pass.
Coming from other cities, you'll want to use the Shinkansen bullet trains to Shin-Osaka station. Use a local JR lines to Osaka station and there board the train bound for Sakurajima and get out at Universal city station. There's even a special Universal styled train on the route, so it will be hard to miss.


Tips to get the most out of your visit
Make sure to read up on the background of each attraction, this will give you the best experience and enjoyment.
Book the USJ VIP Wristband, it will allow you to enter the park early before most crowds, and you get to your favourite ride faster.
The busiest days are weekends and national holidays, we highly recommend booking during normal week days.
Food in the park is relatively expensive, bring at the very least some snacks and drinks, or even better, a fully packed lunch.
When you go in summer, come prepared. It can get rather hot and humid.
Right outside the park is Universal Citywalk Osaka, a massive mall great for shopping and dining.
This post is written as "Guide to Universal Studios Japan". For the official website see here.
Photo credit:
DRN Studio – stock.adobe.com under licence.