Chiyoda is one of the most centrally-located of Tokyo's districts. It is in the middle of Tokyo, and the eastern part of the overall Tokyo metro. This ward, often known as "Chiyoda City" in English, is home to the Imperial Palace, parks, shrines, and museums. It is also the center of the current government, and home to the Prime Minister's residence and the place where parliament meets.
These sites make Chiyoda an attractive destination for tourists, who can easily get there from anywhere in the city via Tokyo Station. Tokyo Station, a historic rail hub, is an attraction in and of itself. Chiyoda has other attractions as well. It is a center for bargain hunters and of modern Japanese pop culture and the "otaku" scene.

Tokyo Station
Tokyo Station is one of Japan's busiest rail terminals for intercity trains. Travelers who
purchase a Japan Rail Pass
in advance will very likely at least pass through Tokyo Station, if not use it as the central hub for many of their excursions to the various wards of Tokyo and the surrounding areas. It sees
more than 400,000
people board trains that run on JR East railways here each day, and the subway station sees an additional 181,000. If you take a
day trip from Tokyo
, you will likely pass through Tokyo Station.
Tokyo has several subway and train apps to find trip information. You can get pocket Wi-Fi to access these and any other apps easily. Additionally, you can use this connection to figure out which lines accept Japan Rail Passes and which do not.
In addition to long-distance lines, you can access Tokyo Station on the Marunouchi Line. Otemachi Station connects with Tokyo Station and offers access via the Chiyoda, Mita, Hanzōmon, and Tōzai subway lines.
Tokyo Station is more than a century old, and the subway portion dates back to the 1950s. Bombers destroyed parts of the station during World War II, but it has since been restored, retaining much of its original, classic appearance.

Chiyoda Marunouchi
Tokyo Station is in Marunouchi, which is the central district in Chiyoda. Major companies such as Mitsubishi and Hitachi have their headquarters here, and the area surrounds the gardens and moat of the Imperial Palace. Marunouchi features a contrast between modern skyscrapers and busy business headquarters and the natural beauty of the parklands of the Imperial Palace's gardens.
Marunouchi Building
One of the primary attractions in Marunouchi is the Marunouchi Building. Businesses occupy the upper floors of this 37-story tower, but the bottom is a mall with both Japanese and international shops and restaurants. The
original structure
on the site dates back to 1923, and it survived the Great Kanto Earthquake and World War II bombings. It is now a landmark in Marunouchi, though the skyscraper portion only dates back to the early 2000s.
Chiyoda Imperial Palace
The Imperial Palace dates back to 1888. Japanese emperors lived in the palace since then. It is still the official imperial residence and is closed to the public except on two
traditional festival
days: New Year's (January 2nd) and the Emperor's birthday (February 23rd). The gardens and grounds are open to the public every day except on Monday and Friday. You can take a 75-minute tour of the palace grounds, but you do not enter any buildings, with tickets available from the
Imperial Household Agency
and at the official grounds' entrance, known as the Kikyo-mon Gate.
Things To Do In Chiyoda
In addition to the historic attractions and political and economic sites, Chiyoda has plenty of additional shopping and dining options and leisure activities. Here is an overview of other places that you should know about in Chiyoda.
Chiyoda Nightlife
Chiyoda's nightlife includes office-worker-oriented bars and casual drinking spots for tourists.
Chiyoda Shopping
You will find diverse shopping options in Chiyoda, including high-end shops, bargains, and plenty of places to find items that you forgot to bring to Japan.
Chiyoda Sightseeing
Chiyoda has both modern and historical sites as well, perfect for sightseeing.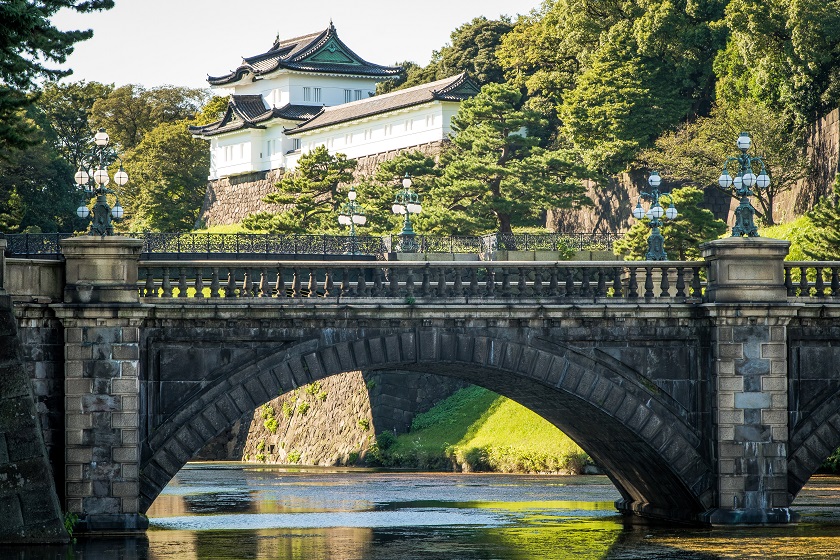 Chiyoda Hotels
Chiyoda has a variety of hotels, including five-star luxury lodgings, traditional ryokan experiences, and budget accommodations.
Chiyoda Restaurants
Chiyoda has a variety of restaurants serving Japanese and international cuisine.
Chiyoda Onsen
Chiyoda does not have any onsen, or hot spring spas, but it does boast a variety of hotel and day spas.
The Chi Spa at the Shangri La Hotel in Marunouchi Trust Tower features private treatment rooms, a pan-Asian menu of spa treatments, and a luxurious setting.