Located on the southern tip of Kyushu, Ibusuki is famous for its dark sandy beaches, unspoiled nature and onsen. In addition to the scenic train ride to Ibusuki itself.
Ibusuki is a popular day trip from Kagoshima city, but can easily be visited from anywhere in Kyushu using the JR Pass. A visit should include a visit to the dark sanded beach, where it is customary to take a sand bath and relax. There's plenty else to do as well, like nature hiking, visit Cape Nagasakibana and Flower Park Kagoshima. Then finish the day with a visit to a local onsen.
The trip to Ibusuki
They say the journey is as important as the destination, that could not be more true with a visit to Ibusuki. Depending on where you are coming from, the first step is making getting down to Kagoshima using the Kyushu Shinkansen. A high speed train ride with good views along the way of the Kyushu inland mountains and country side, before arriving at Kagoshima-chuo station.
Here's where the fun really begins boarding the "Limited Express
Ibusuki no Tamatebako" a special designed train for the journey to Ibusuki. The outside is painted black on the land facing side and white on the sea facing side. While the interior has an industrial wooden design, with turnable seats that can directly face to seaside windows to enjoy the ocean view.
The ride takes little under 2 hours with 3 return trips each day. Prior reservations are required and can be made for free at any JR Ticket window. We suggest making reservations a couple of days in advance, to secure your seating.
Have a look around the train using Google Maps.

What to do in Ibusuki
Take a sand bath
Upon arrival, the first stop we suggest is to experience the sand bath. The sand is naturally heated and is said to be healthy as it relaxes the muscles, has a detoxing effect and simulates blood circulation. A typical sand bath will take about 10 minutes, after which you take about 20 minutes to relax.
Hiking along the sea coast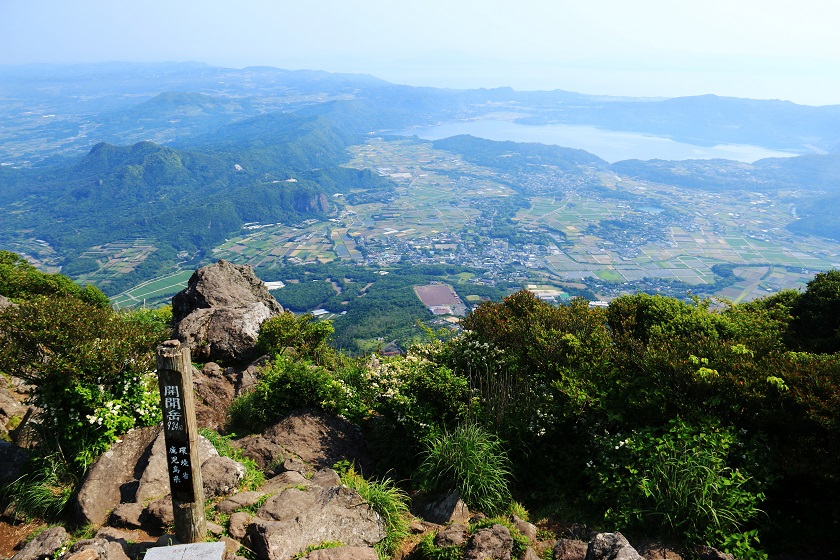 Ibusuki is a small town and the area can be explored on foot. If you're up for more than a 4-5hour hike from Ibusuki station to Irono station will take you past the local lakes of Ikeda and Unagi, visit the coast line and around Kaimon-dake volcano.
Cape Nagasakibana
A very scenic spot, Cape Nagasakibana looks out over the ocean and. On one side you'll see Kaimon-dake volcano and Kagoshima bay on the other. There's also a small botanical garden and shrine to visit.
Flower Park Kagoshima
A large and colourful flower park along the coastline with a good variety of flowers from all over the world. There is both an indoor and outdoor section, with nearly 3 km of walking trails. During the winter months the park also hosts a spectacular light-up.
Onsen
There are around 500 onsen around the Ibusuki area, both with public and private baths. Many also offer accommodation.
Tips for visiting Ibutsuki
Start the day early, most attractions will close around 16.30. Try to be on the first ltd. express train to get the most out of your day.
If you have time, then consider staying the night in one of the local Ryokan and experience a private onsen.
The Ibusuki Makurazaki Line between Kagoshima – Ibusuki and Makurazaki is a very quiet railway line, be sure to check the time tables beforehand.