The guest for this interview is Thomas, a German backpacker. He travels the world with only one backpack and has visited Japan many times already. For Thomas, who has enjoyed traveling by himself all over, we asked him how did he enjoy visiting Japan with host travelers (guides) this time? For this trip, Thomas used Huber for one day in Sendai and two days in Hokkaido.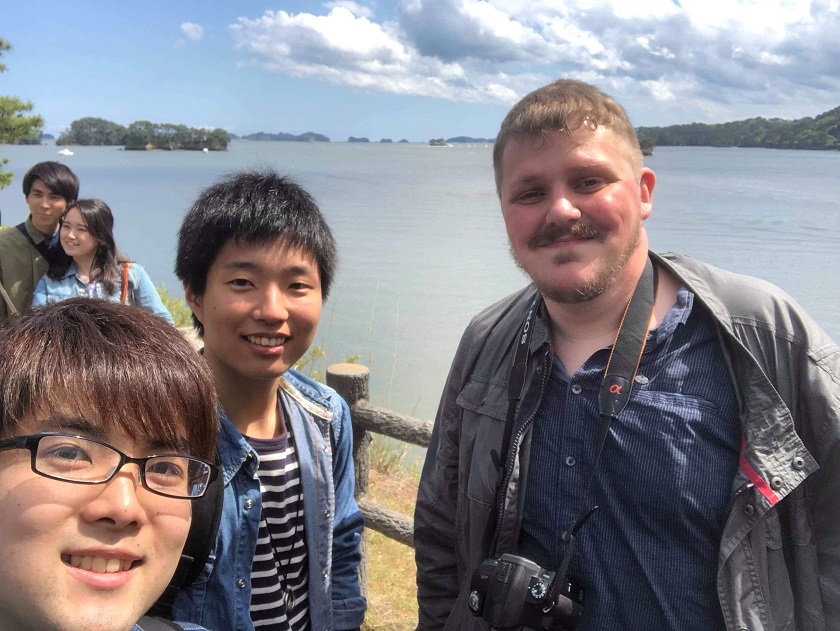 May 4 in Sendai
 Trip Itinerary: Visiting temples, Travel to small islands, Lunch (Oysters), Drinking green tea with Japanese sweets
Shuta, who is currently a university student, was the first to meet Thomas in Sendai.
 "We finally meet!"
 Shuta is the first guide on this trip. Up until the day of the journey, Shuta has been exchanging messages with Thomas, and he has been waiting anxiously for the day that they finally meet. While planning the trip, Shuta was thinking "I want to show him the daily lives of the people in this area and let him experience the local lifestyle firsthand." What led him to realize this was his own experience in California as an exchange student.
During his time in California, Shuta told his friend "I want to experience what the local people go through every day." With his friend, they went to visit many different places and were able to visit places that he would not have been able to find or visit on his own. With this in mind, Shuta also wanted to give the same wonderful experience that he felt to overseas visitors that come to Japan. With this intention, Shuta suggested this similar experience to Thomas.
"I originally planned to take you to popular places that many people visit, but I can recommend other places that are less known, have a nicer atmosphere, and fewer people. Shall we go there instead?"
They ended up visiting a place that was different from the original plan. Shuta was extremely nervous while suggesting this change to Thomas, and it turned out that the spot Shuta suggested last minute, was the place that made Thomas the happiest.
 With the same feelings of wanting to "provide an experience of the local people's daily lives," Shuta provided Thomas' first day with guides with the hospitality that Japan is known to give visitors.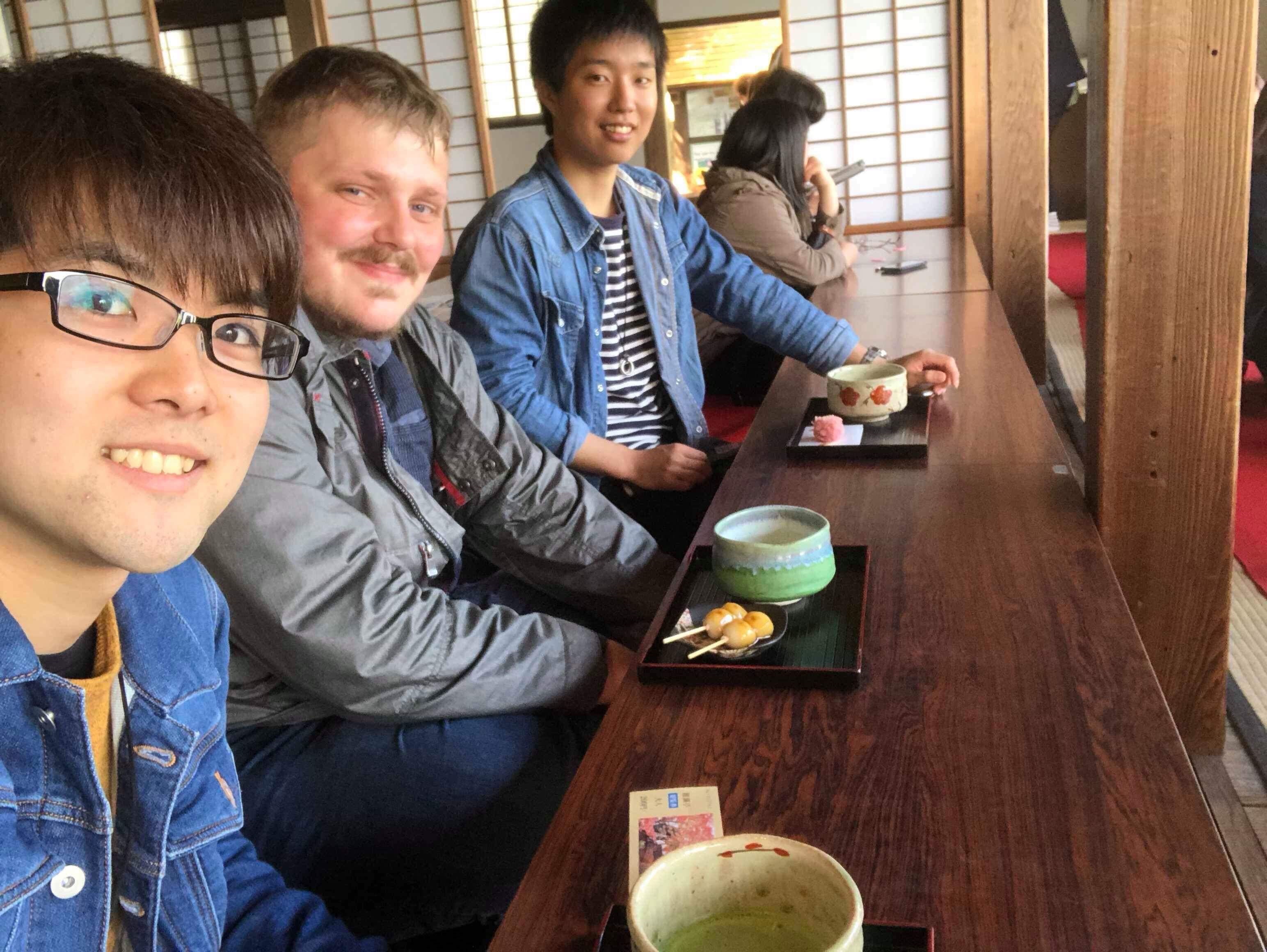 May 13 in Hokkaido
 Itinerary: Hot Spring, Ranch, Rental Car, Ride a boat in Lake Toya to Nakano island, and Usuzan Ropeway
 May 18 in Hokkaido
 Itinerary: Otaru History Museum, Go to Nishin Goden (Herring Fishery Lodge) by rental bicycle, eat fish lunch set, and go shopping
One of the guides for the two days in Hokkaido is Mizue. She has extensive and unique overseas experiences that include, going to Kilimanjaro for her honeymoon, and living in Tanzania for 2 and a half years doing volunteer activities.
 Mizue was very much looking forward to the guided tour with Thomas. She included her favorite spot in the itinerary. However, on the day of the trip, it was relentlessly pouring rain. The planned places were mainly outdoors, so there was no choice but to change the plan. However, Mizue kept her calm and did not panic.
As a local of the area, Mizue played it by ear and thought about ways of having fun and what to do as she made changes to the schedule. The guest mentioned that he would like to visit shops to look at glass crafts, which Otaru was known for, as well as shop for snacks at sweet shops and eating ice cream with melon on top. Mizue did her best to fulfill the guest's requests. Even though it rained, the guide and guest were able to become closer and got to know each other better. It still rained on the second day, but they were able to have lively conversations thanks to getting to know each other the previous day.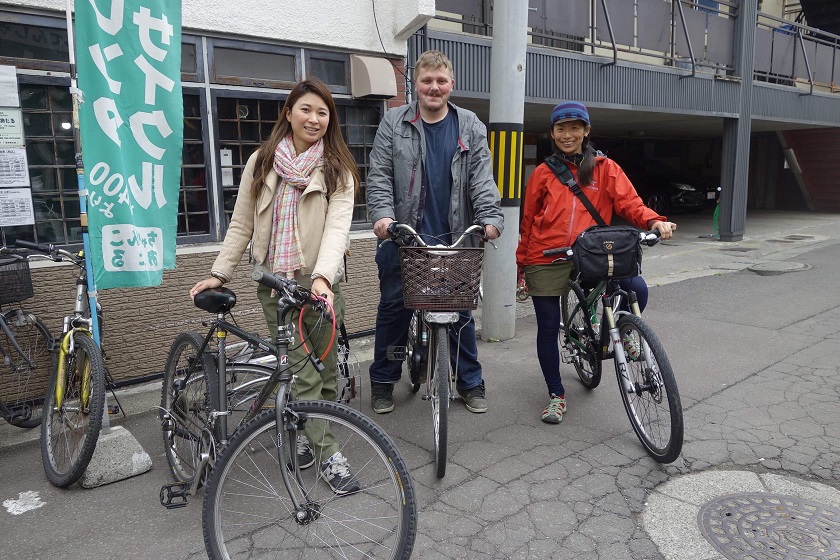 Conversation at Nishin Market
Mizue: Do you know "nishin fish," herring?
 Thomas: I do! German people also eat it.
 Mizue: How do you normally eat it?
 Thomas: In Germany, we often have pickled herring, where it is in sour marinade juices.
 Mizue: Really?! In Japan, it is usually grilled and then eaten. The herring lunch set that we are about to eat is also grilled herring!
 Thomas: Ah! Is that so? That's surprising.
 ~ After trying grilled herring for the first time ~
 Mizue: How is the grilled herring?
 Thomas: It's really good!
 Mizue: That's great to hear! I'm so glad you like it!
Normally, it is not easy to get excited over things such as herring. The weather for the two days was not the best but reflecting back on the trip, the guides and guest got along so well, it felt as if the guide and guest were old friends and acquaintances.
 This time, the two host travelers (guides) provided Thomas, the veteran backpacker, with friendliness and warmth. Although their ideas and forms of hospitality may be different, the two host travelers both wanted to provide their best hospitality possible to allow Thomas to fully enjoy his time in Japan.
 Since the guides are locals in their respective areas, they can offer plans and ideas that are custom tailored and suitable for the people and circumstances, to make the trip memorable and enjoyable for everyone.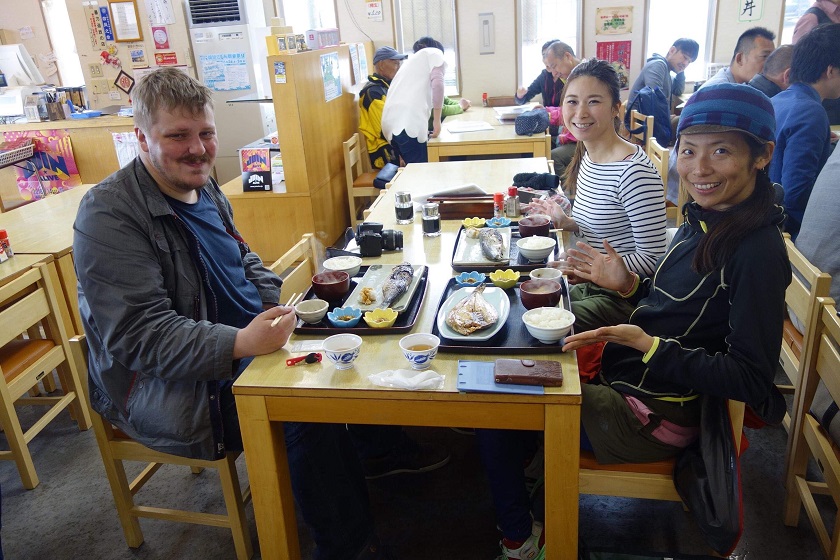 Even now, the guides and the guest are still communicating through social media. It won't be long until they go beyond being "guides" and "guest" and become friends.