Nagoya is the big city located between Tokyo and Osaka. If you plan on activating the JR-Pass here, chances are you just arrived at Chūbu Centrair International Airport. Nagoya station is the largest station building in Japan and can be very busy, so here is a small guide to help activating the JR-Pass.
Activating the JR-Pass
The station mainly consists of one large hall and has two main entrance and exit sides. The Sakura-dori side, is the exit for the city center and the front side of the station. The Taiko-Dori side is the backside of the station and faces the local Bic camera department electronics department store.
The JR-Pass can be exchanged at Nagoya station every day between 6.00 am and 23:00 pm. Between 10:00-19:00 the place to go for activating the JR-Pass is the JR Information Center that can be found in the middle of the station hall on the Sakura-dori side, opposite to the Tourist information Office. From 6:00-10:00 and 19:00-23:00 the pass can be exchanged at the Main ticket office marked by the Shinkansen and JR-Lines sign. The Main Ticket office can be found on the right side in the station hall, when you enter from the Sakura Dori side.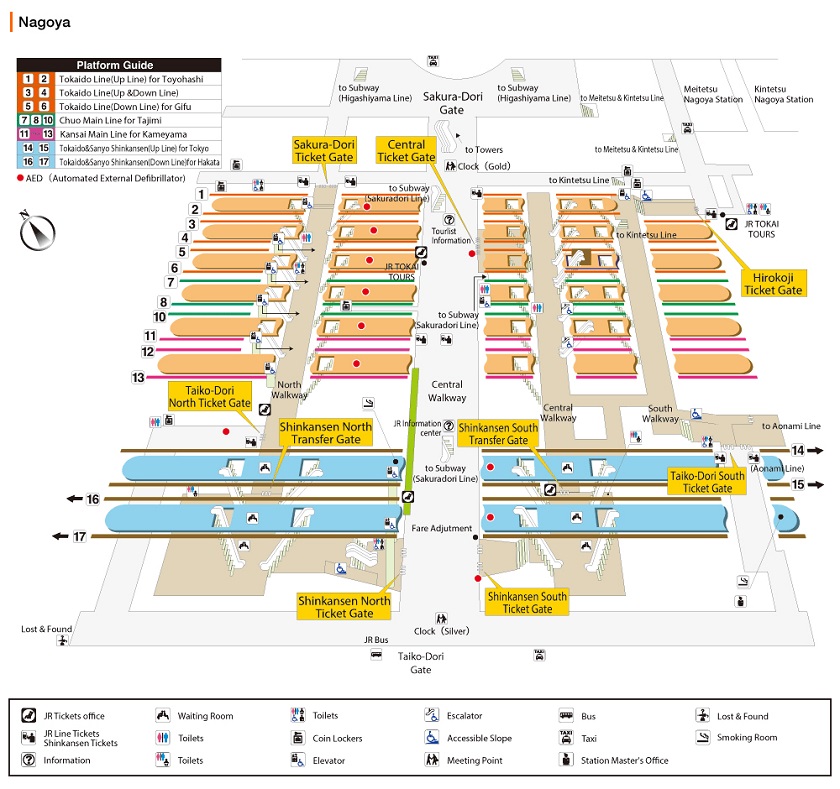 Map of Nagoya station
Can I get the JR Pass at Nagoya station?
Read how to get a Japan rail pass to get the JR Pass online. The JR Pass can also be purchased directly at Nagoya station but the price is up to 20% (depending on what pass). We recommend buying the JR Pass beforehand if you are budget minded.
Station resources
-On the Sakura-dori side of the station a golden clock can be found, this is a very famous spot and makes for a great meeting place. Locals call this the "Kin no Tokei".
-Kikuko's Website is a great resource that offers English maps and information about Nagoya station.
-The post office can be found on the left side, if you exit the station on the Sakura-dori side. Here an ATM service is available, which can be used with most foreign cards.
Hope you find this guide useful!
PS: don't forget to bring your Passport and JR-Pass voucher for exchanging your JR-Pass.
Written by Daniel-san