Culture, craft and tradition, in this itinerary we visit some of the best experiences Japan has to offer. Visiting Kanazawa, Takayama, Kyoto, Nara, Nikko and Kamakura.
We travel in a triangle visiting Kanto, Kansai and the Japanese Alps, the itinerary works both if you arrive at Kansai Airport or start in Tokyo.
Japanese Alps, Kanazawa and Takayama
We start our itinerary in the Japanese Alps. Access is easy. Coming from Tokyo, passengers can directly travel to Kanazawa using the the newly opened Hokuriku Shinkansen, making the trip in 2.5 hours. Coming from Kansai, passengers can use the Thunderbird ltd. express directly from Osaka and Kyoto stations, taking 2-3 hours.
Kanazawa
Kanazawa is beautiful historic town near the northern coast of Honshu. Having survived WW2 untouched, it remains as one of the most historically authentic towns in Japan. Here are our top recommendations:
Kenroku-en
is one of the three most beautiful landscape gardens found in Japan. Being the former castle garden, it is now open to public year round. It's especially beautiful during the cherry blossom and Autumn seasons.

A view of Kenrokuen in spring.
Chaya District
better known as the local Geisha quarters, remain in business since the Edo period. It's a great way to get a glimpse of Japan 300 years ago. Local tea houses are open to public and tea service available upon request.
Kanazawa Castle
Kanazawa Castle is built upon a hill overlooking the beautiful view of the Kanazawa area. The castle is small but beautiful, the surrounding castle gardens are also well worth visiting(not to be confused with Kenrokuen)
Takayama and Shirakawago
Takayama is a town with a traditional atmosphere rarely found in other places, hidden away in the Japanese Alps. The beautifully preserved old town is especially worth a visit. We recommend a visit to the follow places:
Old Town, here many small shops, restaurants, coffee shops and even sake breweries can be found. Some of the old houses are open to public and give a glimpse of how people used to live in older times. Just walking around the old town is enough be busy for half a day. The highlight of old town is Takayama Jinya:http://en.wikipedia.org/wiki/Takayama_Jinya, this was the local government office in Edo Japan and even includes an interrogation room.
Hida Folk village
A great way to spend the second half of the day is a visit to the Hida Folk village. It's an open air museum with over 30 traditional countryside houses, it's especially interesting to see the difference with town life found in old town Takayama.
Day trip to Shirakawago
Shirakawa-go is famous for its traditional gassho-zukuri farmhouses. The village is very scenic, every season brings its own pallet of colors. Shirakawago is easy to visit as a day trip from Takayama by express bus departing from Takayama. The bus is not covered by the JR Pass and cost 4420 yen for a return trip. An alternative is to take the bus from Kanazawa to Shirakawago and from Shirakawago to Takayama, we opted for the first option, because it is easier when traveling with luggage.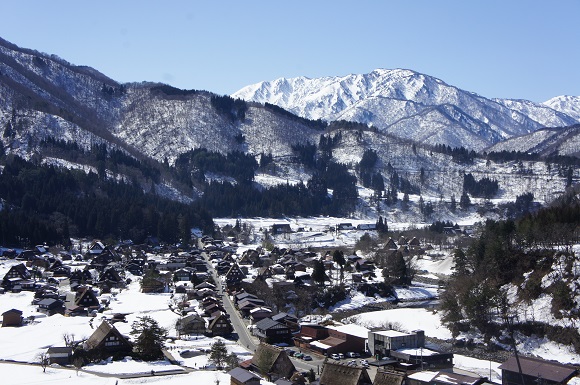 Kansai: Kyoto, Nara and Koya-san
Within Kansai, Kyoto, Osaka, Kobe and Nara are all located. The area is easily accessed from Takayama with the JR. The route consists of two parts. The first part is with the Hida Wide view express between Takayama and Nagoya, from Nagoya the Shinkansen travel on to Kansai. The first part of the route is specially spectacular, as the train follows mountain riverbed flowing going all the way through the mountains.
Kyoto
Kyoto is a great place to base yourself. The city is the cultural capital of Japan and is not to be missed in any trip to Japan. Additionally it situated well to make day trips from to Nara, Osaka and the rest of Kansai.
Arashiyama In the scenic western part of Kyoto. Home to the famous bamboo groves, monkey mountain many smaller temples.
Golden Pavillion, also known as Kinkaku-ji. This is the most Iconic temple in Kyoto. Be sure to come early to experience the tranquil atmosphere before the hordes of tourist arrive.
Kyomizudera, this is one of the most amazing temples in the east of Kyoto. Build on the side of a mountain overlooking Kyoto, Kyomizudera has a wonderful view over Kyoto. Found along the small lanes leading towards Kyomizudera, there are many small craft shops selling pottery, sweets and souvenirs. These are well worth visiting by themselves.
Nishiki Market, found in the middle of Kyoto city. These small passageways are home to many small shops selling all kinds of delicacies and small goods.
Nara is great for a day trip from anywhere in Kansai, see our day trip to Nara itinerary, for our recommendation.
Koya-san, a traditional Japan itinerary is not complete without a temple stay at Koya-san. Koya-san is the centre of Shingon Buddhism and travelers can join the monks in their prayers, rituals and try out the vegetarian monk's diet. It's an experience that you'll never forget.
The best day trips from Tokyo!
After Kansai it is time to travel on to Tokyo. There are two day trips from Tokyo that perfectly fit within this itinerary. Namely, Nikko and Kamakura.
Nikko, is both home to the impressive Toshogu Shrine and the nation Nikko park, where beautiful scenery including waterfalls, lakes, mountains and forest areas can be found. Our top recommendations for Nikko are:
Toshogu Shrine, dedicated to Tokugawa Ieyasu, founder of the Shogunate, who ruled Japan between 1603 and 1868. It's an impressive temple complex and also houses Tokugawa Ieyasu's mausoleum.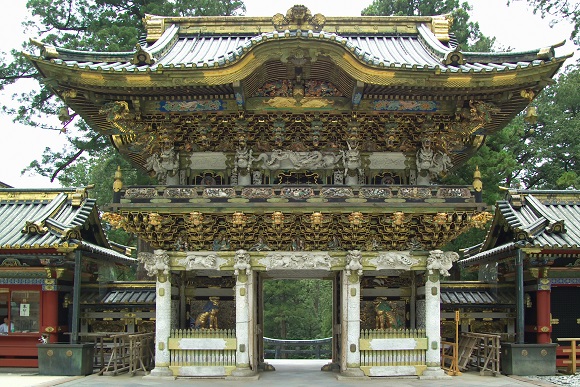 Nikko, Toshogu Yomeimon.
Rinnoji Temple, founded in the 8th century and one of the most beautiful temples in Nikko. It is a beautiful place to see the autumn leaves fall. The surrounding temple garden and pond are pleasant to walk around.
Kamakura
Our second day trip from Tokyo, Kamakura is famous for Big Buddha! Also, the surrounding forest hills are also amazing for hiking.
The itinerary is made with a 7 day JR Pass in mind but can also serve as a basis for a 14 day JR Pass, as places of your own choice can easily be added. We suggest around at least 10 days in total and use the JR Pass to travel the route between Tokyo – Kanazawa – Takayama – Kyoto – Tokyo within its validity period.
Questions? Ask them in our forum.
Written by: Daniel-San
Photo courtesy: Nikko Toshogu Yomeimon by Fg2
Kanazawa and Shirakawago by Daniel-san