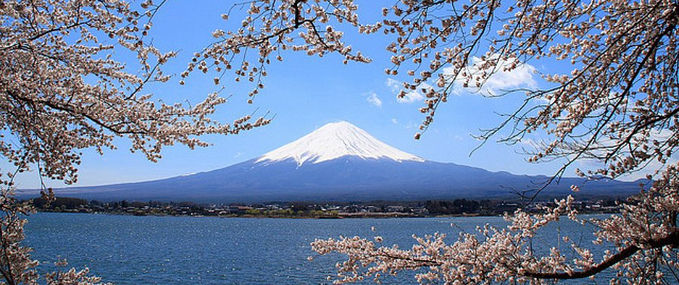 'One who never climbs Mount Fuji is a fool, and one who climbs twice is twice the fool.'
At 3776m high, Fuji-san (Mt. Fuji) is one of the most famous symbols of Japan. Rising high out of the plains of central Honshū, 60 miles south west of Tokyo, this dormant volcano is climbed by around 300,000 energetic people a year with many thousands more enjoying the majestic view.
Getting there and away
Mt. Fuji is easily accessed within an hour or two from Tokyo, with many Japan Rail Pass routes to choose from. If you're travelling up from southern Japan, getting to the main viewing spots of Fuji Five Lakes or Hakone will take quite a bit longer, with several changes involved.
From Shinjuku take the JR Chuo line → Otsuki with your Japan Rail Pass, change to the private Fujikyu line → Kawaguchiko, a popular base in the Fuji Five Lakes region for climbing and camping.
Or
From Tokyo take the Shinkansen or JR Tokaido line / from Shinjuku take the JR Shonen Shinjuku line → Odawara with your Japan Rail Pass. From here change to local trains or buses to the Hakone region, famous for its hot springs and magnificent Mt. Fuji views.
When to visit
This volcano is notoriously shy, hiding away from view behind mist and clouds for a lot of the year. The best time to catch a glimpse is early in the morning, in the less hazy spring and autumn seasons.
Climbing Mt. Fuji
The official climbing season is from July 1st to August 31st, outside these months the mountain huts are closed and the lack of shelter means tackling this difficult climb should be left to the very experienced only. Within the climbing season you're able to join the scores of people scaling Mt. Fuji to witness the sun rising over the Honshū plains, many leaving from Kawaguchiko 5th Station.
Word to the wise: It can take 7+ hours each way to climb, conditions are very rocky and cold at night so come prepared, your normal trainers and sweater will not do!
photos by Kazuhiko Teramoto & Raneko
Unlimited travel on the Japan Rail network from $272.00 for 7 days