Itinerary tip: The Japan Alps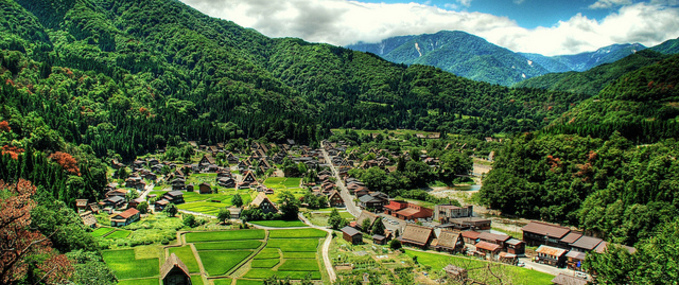 The Japan Alps has lots to offer - farmhouses, gardens, onsen, local craft, teahouses and samurai dwellings - the perfect antidote to neon cities...
---
Landlocked in central Honshū, The Japan Alps are a complete opposite to the lowland, highly populated, futuristic cities of modern Japan. Travel to Takayama with your "Japan Rail Pass":http://www.jrpass.com and use it as a jumping off point for all the area's highlights. h4. What Takayama has to offer In the city's old town you'll find perfectly preserved *Edo-Period houses*, as well as *sake breweries*, hic! Wander the streets and buy some local crafts from the morning market, or tour the *temples, shrines and castle ruins*. In spring and autumn join in some raucous chanting when Takayama holds one of Japan's most "famous festivals":http://www.jnto.go.jp/eng/indepth/history/traditionalevents/a17_fes_takayama.html, with processions, floats and performances to marvel at. h4. Trips from Takayama with your Japan Rail Pass *Kanazawa:* Considered Japan's most beautiful landscaped garden, "Kenrokuen":http://www.pref.ishikawa.jp/siro-niwa/kenrokuen/e/index.html is a must see. After this, stop at the "21st Century Museum of Contemporary Art":http://www.kanazawa21.jp/en/, samurai, geisha or ninja buildings.
*Shirakawa-go/Gokayama:* This region is dotted with picturesque old farmhouses with steep thatched roofs used for silkworm cultivating. Declared a "UNESCO World Heritage Site":http://whc.unesco.org/en/list/734 take the opportunity to "stay overnight":http://www.japaneseguesthouses.com/db/shirakawago/ in one of these fantastic buildings. *Okuhida:* After sightseeing, soak your weary body in an outdoor "onsen":http://www.jrpass.com/blogs/relax-and-unwind-in-an-onsen (_rotemburo_), with calming views over this leafy mountain region, don't forget your modesty towel! h4. How to get there Take the Shinkansen → *Nagoya*, transfer to the JR Hida Limited Express Train → *Takayama* (L'Ex takes 140 minutes, one train per hour), all with your "Japan Rail Pass":http://www.jrpass.com. Click "here":http://www.jrpass.com/buy_the_japan_rail_pass_online to buy your Japan Rail Pass now! h4. View more images of The Japan Alps on our Flickr page
photo David Sanz / Yuki Shimazu