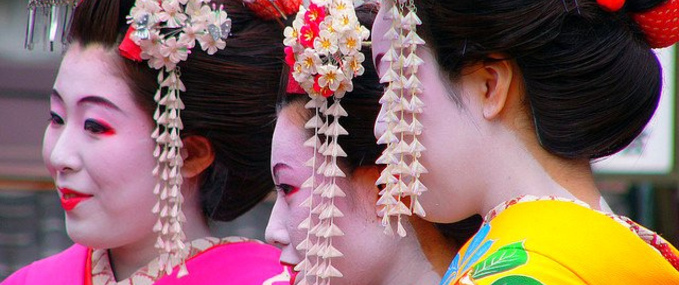 A unique alternative to the dress-up of your childhood, be made up as a Geisha or Samurai in the old Japanese capital of Kyoto.
---
The next best thing after spotting a Geisha in Gion? Being a Geisha in Gion (well a Maiko in Kyoto at least). Last year I had the opportunity of being made-up as a Maiko when travelling on my Japan Rail Pass. It was certainly a day to remember…
Where the magic happens
I booked through Studio Shiki after spending more time than is healthy trawling the internet looking for the best deal. An amazing little studio in an old Kyoto town house, slap-bang near Kodaiji and Kiyomizu-dera, we arrived mid-morning and got into our preparation robes. Up several flights of stairs we had our make-up done, chose our kimono, had our hair piece fitted and finally our photos taken.
After this we were free to wander the winding streets for 30 minutes or so as the studio photos processed, taking our own photos and enjoying trying to balance on some seriously high okobo (wooden sandals).
Now I'm not sure my face is particularly suited to all-over white make-up (moonface does spring to mind), and my photos are ones which only a mother could love, but it was a fantastic chance to have a great time with my friends and there was even a Samurai Plan for the more bushido out there. All in all a truly unique makeover-experience… and the kimono were beautiful.
Prefer something more subtle?
WAK JAPAN offer Tea Ceremony, flower arranging, cookery courses or kimono wearing experiences. Include one of these in your trip to see a side of Japan you can't get from an average itinerary. Click here for full listings.
photo Robert Paul Young