Explore western Japan on JR Thunderbird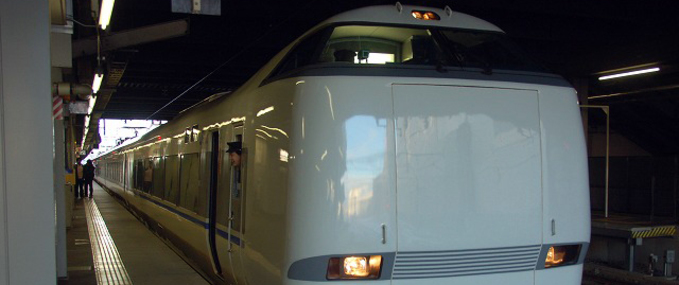 Venture off the beaten track to the west coast of Japan. Access the Japan Alps, Noto-hantō and Kanazawa with the JR Thunderbird.
---
This is the first in a series of posts by our intrepid Japan based reporter! Over the next few months we'll be bringing you more articles to help you get the most out of your Japan Rail Pass in 2011. The JR Thunderbird is an impressive looking train, and runs between Osaka and "Kanazawa":http://en.wikipedia.org/wiki/Kanazawa,_Ishikawa and "Toyama":http://en.wikipedia.org/wiki/Toyama,_Toyama. The Japan Rail Pass fully covers travel on the Thunderbird, so if you're thinking of venturing off the tourist trail to Kanazawa, famous for its beautiful "Kenrokuen":http://en.wikipedia.org/wiki/Kenrokuen garden, Toyama, gateway to the Tateyama-Kurobe Alpine Route, or simply want to get in the right area for exploring the "Noto Peninsular":http://en.wikipedia.org/wiki/Noto_Peninsula or the Western "Japan Alps":http://en.wikipedia.org/wiki/Japan_Alps_National_Park, you can make great use of this route. h4. Availability The Thunderbird runs as many as 22 times a day each way from Osaka at 7:09am until 8:56pm, so it's very easy to incorporate a trip on Thunderbird into your itinerary. Typical journey time between Osaka and Kanazawa is 2 hours 40 minutes, and between Osaka and Toyama 3 hours 20 minutes. h4. Layout On a snowy New Years day I travelled from Toyama to Kyoto in the Green Car of Thunderbird #2. The JR Thunderbird runs Series 681 or 683 stock, and most consist of 9 cars, though there are some 6 car trains. The Green car is positioned at Car No. 1, with ordinary non-reserved cars from 5 to 7, or 5 and 6 in the case of the 6-carriage train. All other passenger cars are ordinary reserved seating. There is also a seating area reserved for ladies only in Car No. 3, and while the seats on this train are entirely non-smoking, there is a smoking room. h4. Seating and facilities The seat configuration in the green car is 2-1, with a very roomy seat pitch of 1160mm (45''). In the ordinary cars, seats are arranged 2-2, with a seat pitch of 970mm (38''). The ordinary car seats were spacious and comfortable enough for the journey time. There is a western toilet, urinal and wash basin in every one or two cars, and I found them kept very clean throughout the journey. h4. Luggage There is a fairly large overhead rack in each carriage, and there is also the space just behind the last row of seats where you can safely leave your luggage. If you choose to leave your luggage behind this last row, make sure you notify the conductor. h4. Travel experience I really enjoyed the generous space given to each green seat and the relaxing atmosphere and tranquility in the entire car. I could make myself totally comfortable, even though the green car on this particular train was busy. According to the conductor, the latest Series 683 Thunderbirds have power outlets in all the green seats, and in the front row (bulkhead) seats of the ordinary cars ("see photo":http://www.flickr.com/photos/japanrailpass/5387600881/in/set-72157625904860804/). I took full advantage of this and worked happily with my PC in the seat for the whole journey. This being a very early morning train, there was no trolley service on board, however there are trolley services in all the daytime Thunderbird trains serving a small selection of hot and cold drinks and a small selection of food and snacks. As always on JR trains, the food in the stations or nearby convenience stores makes a *much* better value option if you have the time to shop around before you board - even more important if you get an early or late train! On my trip it got light around at Tsuruga, in Fukui Prefecture where the train sped past the beautiful "Lake Biwa":http://en.wikipedia.org/wiki/Lake_Biwa on the left for a while. At this time of year with snow on the ground and in the air it was a blissful moment, highly recommended! We wish you a pleasant trip on the Thunderbird, and highly recommend the west coast if you fancy adding a dash of the unknown into your trip!