An overnight Ryōkan experience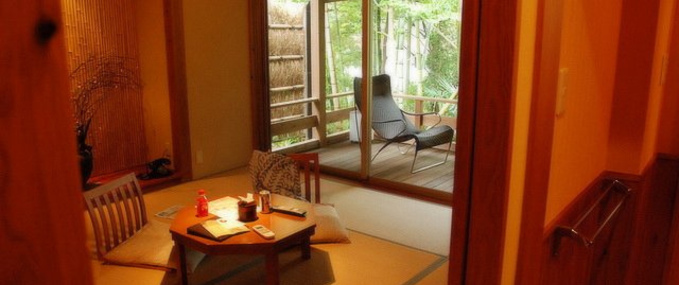 Spending a night in a traditional inn, or Ryōkan, is an experience you must try while in Japan. Tatami rooms, futon, onsen and kaiseki food!
---
Ryōkan range from budget inns to high end establishments, with most falling into the *¥20,000 - ¥30,000* pp/pn bracket. This price includes both an evening meal and breakfast in amazing surroundings. Travel the country with your "Japan Rail Pass":http://www.jrpass.com and sample *ryōkan hospitality* from Hokkaidō to Kyūshū. h4. What to expect Staying in a "ryōkan":http://www.ryokan.or.jp/index_en.html can seem like an intimidating experience as *Japanese etiquette is followed*, but forgoing your hotel for a night of ryōkan relaxation is something you won't forget for all the right reasons: *Futon -* Your bed with most likely be a traditional futon on the floor of your room, laid out by the ryōkan staff while you are at dinner. They are very comfortable, honest!
*Tatami -* Your room will be decorated with the famous tatami reed flooring and perhaps paper screens too. *Baths -* Many ryōkan are attached to an "onsen":http://www.jrpass.com/blogs/relax-and-unwind-in-an-onsen in which you can bathe before your meals to unwind. *Yukata -* Yukata are the light cotton kimono-style robes wore around the ryōkan. Provided in your room you can wear them throughout your stay, to the baths and to dinner, simple! *Kaiseki -* Your stay includes dinner and breakfast, _kaiseki_ cuisine is usually provided, which is an exquisite multi-course meal of fresh, seasonal ingredients sourced from the local area. h4. A run-through of an average stay Things follow the same pattern during a stay at any ryōkan and will be *different to what you may have experienced in other hotels around the world*. To feel more comfortable with your surroundings we suggest reading this "Ryōkan Guide":http://www.japaneseguesthouses.com/about/ryokan/customs.htm for a heads up before you go. A fantastic booking service that "Jrpass":http://www.jrpass.com staff have used in the past is "Japaneseguesthouses.com":http://www.japaneseguesthouses.com/index.htm. There's a wide choice of inns, customer service is good and the booking system is very easy to use. Enjoy your trip! photo Richie Johns / François Rejeté